If reenacting was a religion, and some would consider it to be, the battlefields of Europe would be our Mecca. Every living historian I've ever met has either been, is planning to go or has at least talked about traveling to Normandy, Germany and the like. To set your feet in Carentan or Caen after years of studying and reenacting the battles that took place there is nothing short of life-changing. I recently caught up with a reenactor who finally made his dream trip come true nearly 20 years after he first put on the O.D. green. Check out the highlights from my interview with Mat Hanson below.
How long have you been a reenactor and what got you into the hobby?
I started reenacting back in the fall of 1998. At the time I had no idea it existed or there was such a thing as World War II reenacting. My passion or some might call an obsession, with World War II started when I was 8 years old after my first air show experience. My grandfather served during the war on an Escort Carrier in the South Pacific as a radio man on 40mm anti aircraft guns. He was always interested in aviation and turned me on to it through air shows, books, documentaries and listening to his stories. I started to spread to everything else World War II related and we would always talk about it. From these talks I would hear stories of his brothers and friends who all served. Through those stories I gained nothing but the utmost respect for our veterans and the importance to keep history alive. I wasn't learning these lessons in my school's history classes.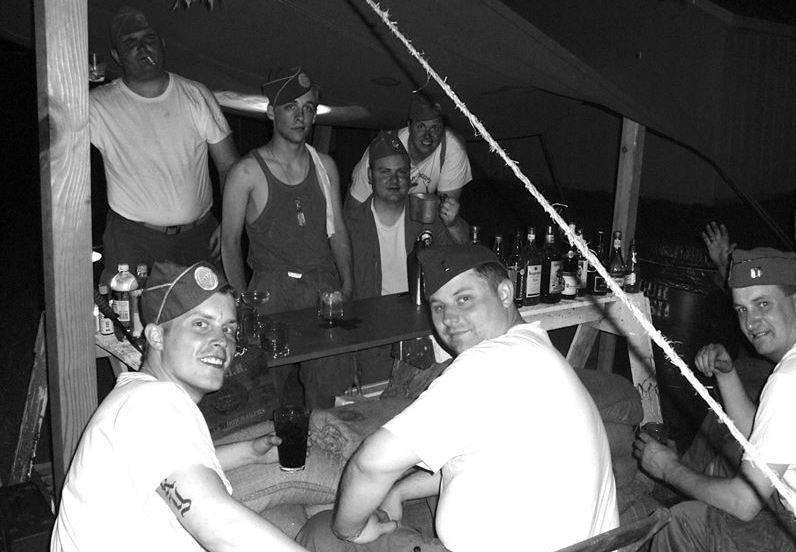 During the summer of 1998, I lost my grandfather. The Saturday before his funeral, I attended a local air show in the Twin Cities with some friends. There I stumbled across a reenacting group manning a display. I knew this was something I wanted to start doing. I had no idea how easy it was to get started and what they did. A couple of months later I attended my first tactical event and I was bitten by the bug and forever hooked.
The loss of my grandfather hit me pretty hard, but as I reflect on this eighteen years later, his passion to teach transferred on to me and I can't even begin to account for the hundreds of people I've had the pleasure to speak to and educate them on the men and women who served in WWII. Not just that, but I've gained countless friendships with people who like him and I share a passion to learn, discuss and keep the history alive for the future.
What unit do you portray and why?
I am a member of Fox Co. 2/502nd PIR 101st Airborne Division out of Minnesota. I joined this group because I wanted to group that had the same beliefs I have about this hobby, to honor veterans and teach history to future generations.
How long was the trip to Europe on the books?
We started planning for this trip back in February for everything to happen in September.
Where did you travel in Europe? 
This trip was a big one, two weeks and five countries to hit! The plan was simple at high level five days in Normandy, four days in Holland, four days in Bastogne, and a couple of stops in Aachen, Germany and Luxembourg. Planning the stops took some more planning, but what sites we did hit was a reenactors dream vacation.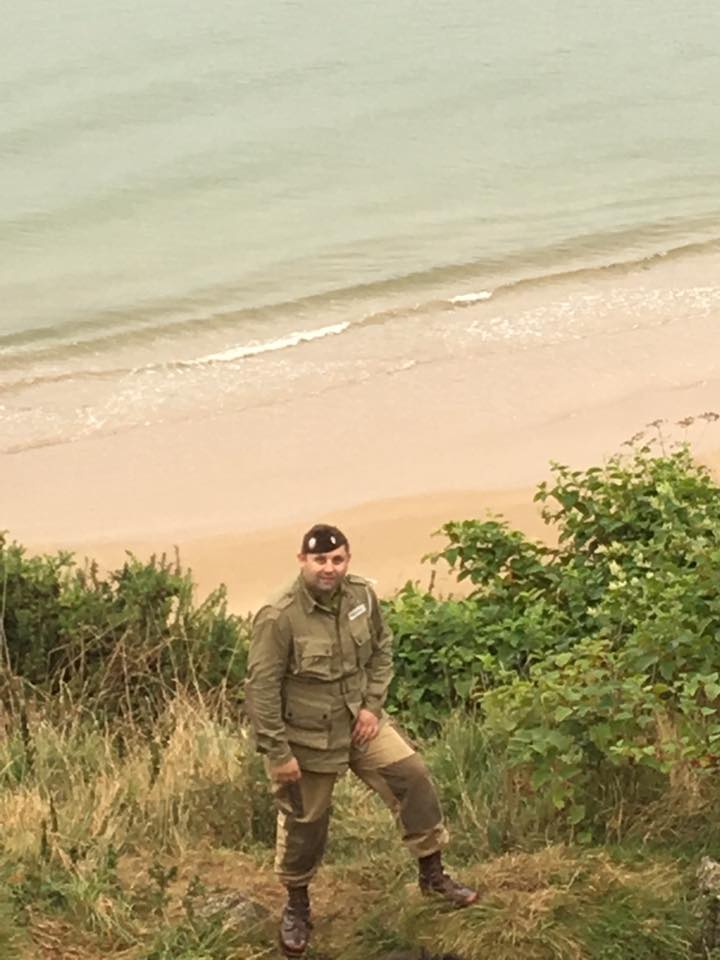 We stayed in St. Mere Eglise during the entire Normandy stay, just blocks away from the church Private John Steele landed. In Holland We stayed in Nijmegen and our hotel was blocks away from the bridge, we could see it from our balcony. In Belgium we stayed blocks from McAuliffe Square.
What was your favorite location? 
This is a hard question for me, I enjoyed all of the sites we visited, but if we had to pick I would say the Normandy Area. From where we stayed, you could walk in any direction and hit an import location. There is just so much going on in a concentrated area, it is easy to miss some sites on a five day stay.
Describe to me what it felt like to visit the U.S. cemetery at Omaha beach. 
Its one thing to see pictures online, but when you step foot on the grounds it just blows your mind. It was a weird feeling of pride, sadness, and gratitude for the ten thousand plus GIs buried there. The grounds are kept in pristine condition with some fantastic memorials and museums. I'm amazed at the amount of people that visit this cemetery on a yearly basis, and the locals show great appreciate for those American men that paid the ultimate price for their freedoms.
Walking through the streets of Normandy, it's easy to imagine what it must've looked like at the time. Very little has changed. What was that like for someone so connected to the history of the area?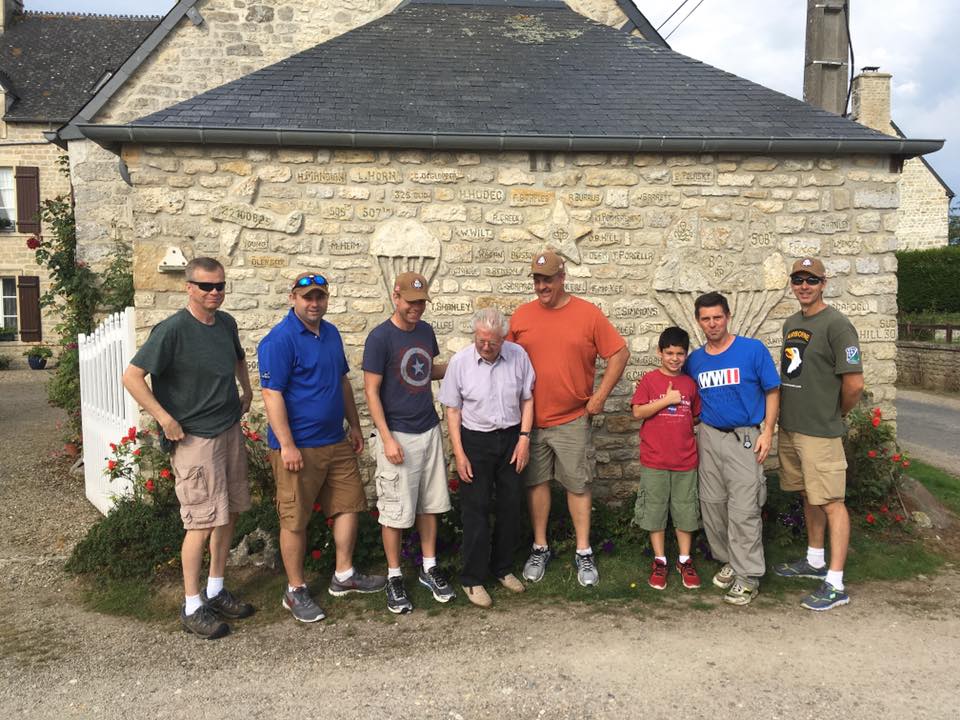 I thought it was awesome; you can still physically touch the same buildings that stood 70 plus years ago and see the bullet holes in the sides of houses and fences. It was a very surreal feeling to be walking down the same roads as those guys did back in June 1944. I applaud the French for not trying tear down history and upgrade some of these towns. Every road, turn, town square, or field had something going on it was just so much in such a concentrated area it just blows your mind.
It's every reenactors dream to visit the battlefields we spend so much time studying. What was it like to finally be there after over a decade of reenacting? 
This was a bucket list trip for me. From a very young age I always wanted to go to Normandy and walk the beaches. I went to Europe in high school but we only hit London and Paris, which bummed me out that we were so close and didn't stop. So to finally make it was literally a dream come true to not just hit Normandy, but also Holland and Belgium. One thing that added some great perspective is to see how the terrain really was, the coasts, hedgerow country and really understand how daunting of a task these guys had when trying take back these lands.
Did you use a tour program or go on your own?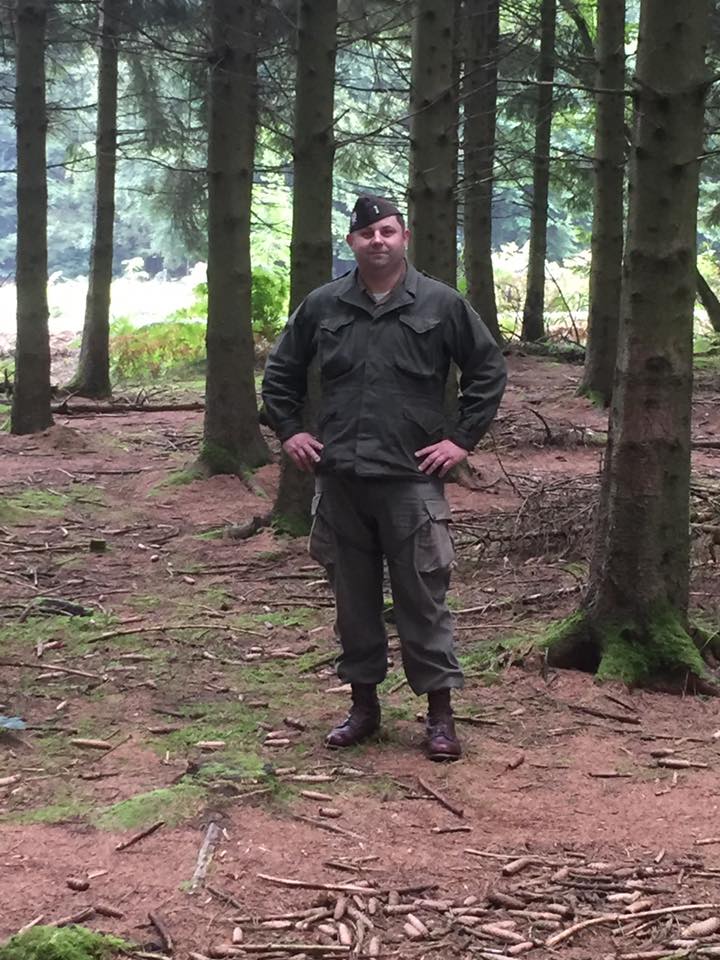 We did a mix of a couple days with paid tour guides and friends in Normandy and Holland. But most of it was a plan put together by us and what we wanted to see. We drove ourselves around which gave us the ability to be fluid and change due to timing or weather.
Did you find yourself getting emotional as you walked through all the battlefields where so many people gave their lives? 
At times I did catch myself becoming emotional, at the cemeteries and beaches mostly. To know that you're standing at the spot where thousands died trying to run up those vast open spaces of beach. When we hit Omaha beach the second day, It was warmer and nice out and the locals were enjoying the beach. All you can see are kids playing and families laughing, and I had this internal struggle with "don't they know where they are, and what happened here!!!." I was quickly reminded by one of the guys I traveled with that many gave their lives so they could have the freedom enjoy life. That helped put me at an ease of mind around that.
What did you miss that you'd like go back and see someday? 
I'd go back in a heartbeat. The group I went with are already taking of a possible 2019 trip for the 75th anniversary of D-day and then head into Germany. I found myself not ever getting bored or tired of seeing all the sites. I would see some of the same spots for a 2nd time.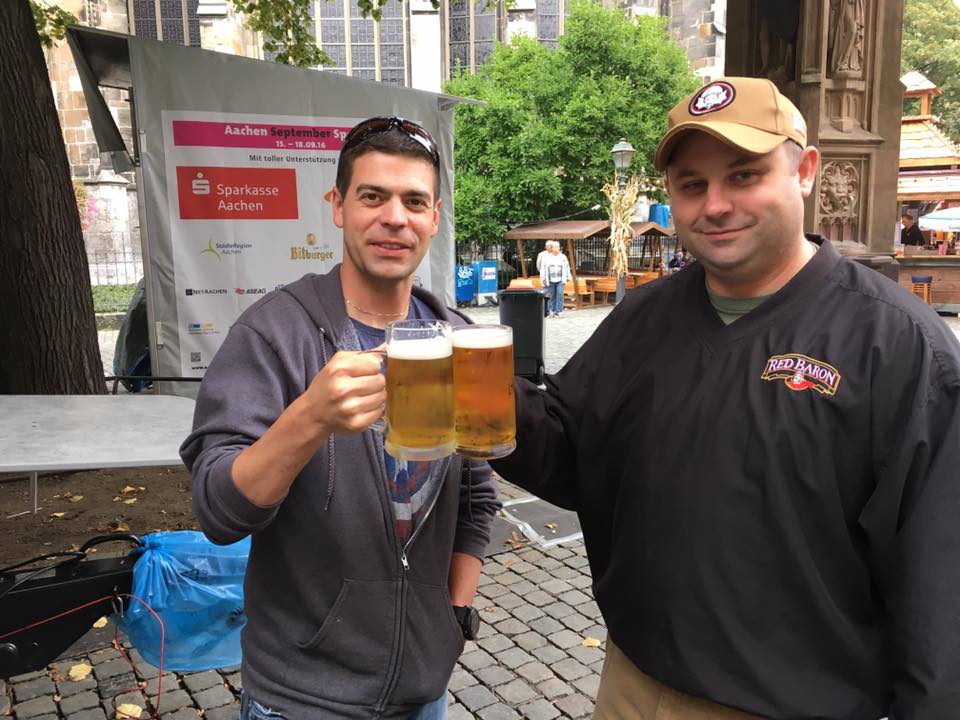 For your money, what country had the best food and beer? 
If I had to rank them from best to good, for the beer category it would be Belgium, Holland, and France. In regards to food it would be Holland, Belgium, and France.