We received so many great photos for our contests this month. It was almost impossible to pick a winner, but we made it happen. It's very enlightening and encouraging to see so many great impressions, especially this time of year after the summer lull in events. Scrolling through them definitely got us excited to get back out into the field!
Even though the winners have already been anounced and posted on our Facebook page, I wanted to highlight the photos we selected to give everyone a chance to take a closer look.
We'll highlight our Axis winners in this post, all you yanks check back on Friday for a look at our Allied winners.
1st place winner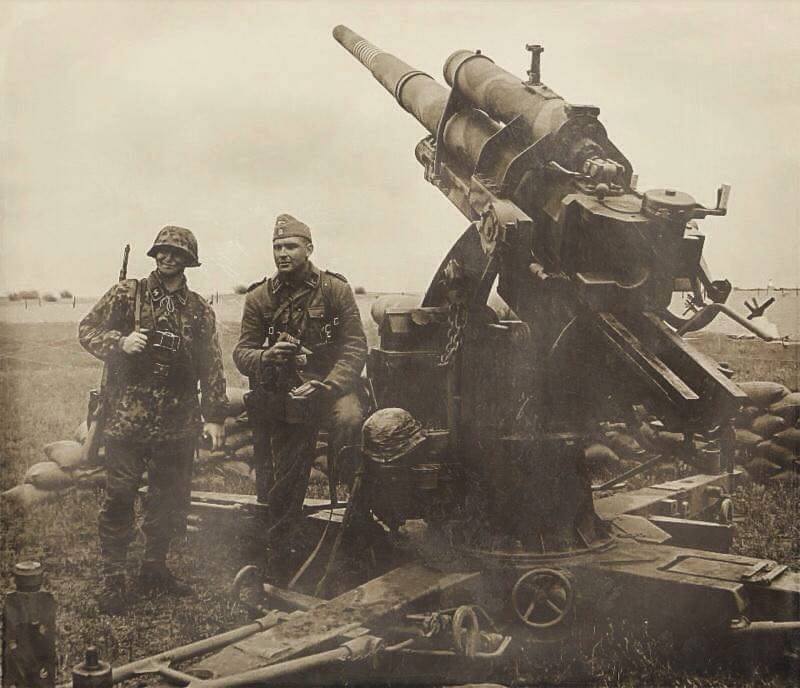 This photo was brought to us by Alexander Bartoli. It features troops of the 2nd SS Das Reich Reconnaissance. Sturmmann Baumann is on the left, Schutze Graeber is on the right (Alexander Bartoli and Chris Williams in real life). The scenario for the photo is the two soldaten are taking a moment to chat following an anti-invasion exercise near La Rochelle France on June 2, 1944, just days before the invasion. The photo was actually taken in 2014 at D-Day Conneaut.
It was one of the first submitted and I have to say we put it at the top of our list as soon as we saw it. We always look for "original quality" in our photos and I've seldom seen a more authentic representation of a period photo. The 88 is obviously what the eye is drawn to, but I particularly enjoyed the expressions of the faces of the guys in the photo. I saw it as a grizzled veteran and a fresh-faced soldat posing for a photo. This might sound strange, but I especially enjoyed the fact that Schutze Graeber is smiling. In the 40s having your picture taken was still kind of a big deal, especially during the war, so you almost always saw guys smiling.
2nd place winner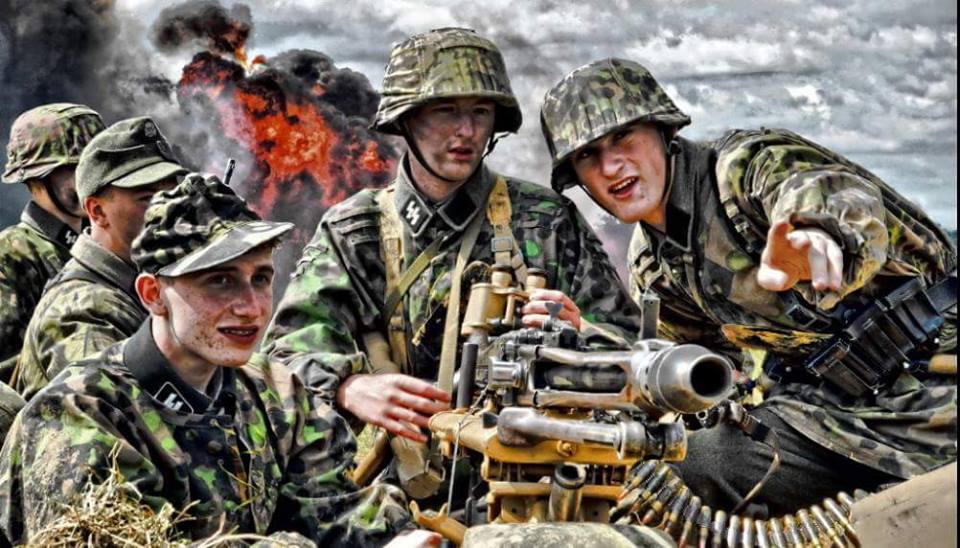 Submitted by Wilhelm Gaulke, our 2nd place winner certainly doesn't look like an original photograph, but we couldn't overlook the quality and "epic-ness" of the shot (pardon the phrase). The photo was taken at War and Peace show in 2015, with members of Second Battle group. They are portraying  1. SS LAH in Normandy and Gaulke is the officer seen in the shot. 
There are two things in this photo that made it stand above the rest. The explosion in the background is definitely not photoshopped. I found out after it was chosen there just happened to be a Vietnam battle going on in the background. We give definite props to the photographer for catching the moment. The second thing I really enjoyed was how young all the guys in the photo are. Each of them really have the look of young SS troops in the middle of combat.